We, the undersigned, hereby demand that the shameful poisoning of tens of stray dogs from Gaesti be investigated and the criminals punished. The law for the protection of animals must be put in action.
Justice must be done!
13 august 2008, 09:00,
Pro Tv
Dâmbovi%u0163a: zeci de câini otr%u0103vi%u0163i l%u0103sa%u0163i s%u0103 moar%u0103 în chinuri5 voturi
voteaza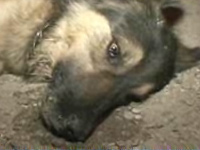 Video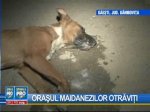 Dâmbovi%u0163a: zeci de câini otr%u0103vi%u0163i l%u0103sa%u0163i s%u0103 moar%u0103 în chinuri
Noapte de groaz%u0103 în ora%u015Ful G%u0103e%u015Fti, jude%u0163ul Dâmbovi%u0163a. Locuitorii au fost %u015Foca%u0163i s%u0103 dea peste zeci de câini comunitari mor%u0163i sau zb%u0103tându-se în agonie.
Oamenii sunt convin%u015Fi c%u0103 maidanezii au fost otr%u0103vi%u0163i din ordinul edililor locali, care n-au g%u0103sit alt%u0103 solu%u0163ie s%u0103 scape de patrupede.
Dincolo de barbaria practicii, punerea de otrav%u0103 în locuri publice este un pericol %u015Fi pentru oameni, mai ales pentru copii.
Locuitorii %u015Fi-au dat seama c%u0103 nenorocirea s-a tras de la ni%u015Fte cârna%u0163i un%u015Fi cu furadan, o substan%u0163%u0103 extrem de toxic%u0103, folosit%u0103 pentru stropirea cartofilor.
Prim%u0103ria s-a mul%u0163umit s%u0103 trimit%u0103 la fa%u0163a locului un poli%u0163ist comunitar. Pân%u0103 la urm%u0103, au venit %u015Fi criminali%u015Ftii, iar poli%u0163ia a deschis o anchet%u0103, pentru identificarea celui care a pus otrava.
Cadavrele a %u015Fase sau %u015Fapte animale au fost duse la Direc%u0163ia Sanitar%u0103 Dâmbovi%u0163a, pentru expertizare. Autopsia va fi pl%u0103tit%u0103 de primarie. Verdictul speciali%u015Ftilor îi va ajuta pe anchetatori s%u0103 ajung%u0103 la cei care au s%u0103vâr%u015Fit oroarea.
Localnicii se tem îns%u0103 c%u0103 nimeni nu va fi pedepsit, iar legea împotriva tortur%u0103rii animalelor va r%u0103mâne, în acest caz, o simpl%u0103 teorie.
Cum crede%u0163i c%u0103 ar putea fi rezolvat%u0103 problema câinilor vagabonzi?


A night of terror in the city of Gaesti, county of Dambovita. The inhabitants were shocked to find tens of stray dogs dead or struggling in agony. It seems that the employees of the townhall wanted this way to get rid of the stray dogs.
Although there was an investigation the inhabitants fear that the criminals will not be punished.