Photo courtesy Lyn Watson
"The Dingo in trouble?"... I hear people ask "but isn't that a protected native species?"
People are always surprised when they find out that our dingo here in Australia is actually an endangered species. I know I was! Yes that beautiful red wolf that is displayed on our post cards and tourist information, is actually heading down the slippery path to extinction, and this is happening right under our radar.
But how can this happen? How did your Aussie Icon get to this point?
Sadly it is the governments narrow minded and ill-informed policies but, more importantly, the powerful graziers lobby behind them that have brought this stunning animal to where it is now. It is for this reason that our government has listed the dingo as 'vermin' and has made it the only Australian native species that is NOT protected under laws. In fact they have gone the other way and put a $50 bounty on their heads to ensure quicker removal. And to make sure there is no public outcry or support, they spin myths and disinformation to support this criminal act. "A dingo ate my baby" is the cry I hear time and time again. In recorded history there as been only 12 dingo attacks... stack this against the 16,000 dog attacks yearly then it pulls it into perspective...besides the dingo was never truly proven guilty!! Like any wolf, these are shy animals that would rather avoid humans where possible.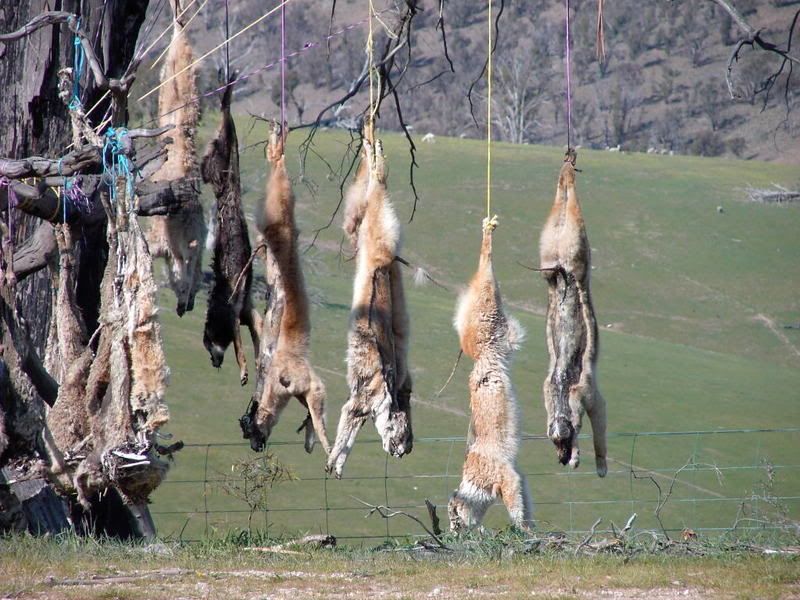 Dingo Tree.. Hunted dingoes are hung from fences and trees in some antiquated belief that it keeps away other dingoes. Notice strips of skin off back due to $50 bounty.
Day in day out these animals suffer long agonizing deaths through trapping, 1080 poisoning and professional Doggers who revel in their killing whilst totally unconcerned that they are helping a species disappear forever.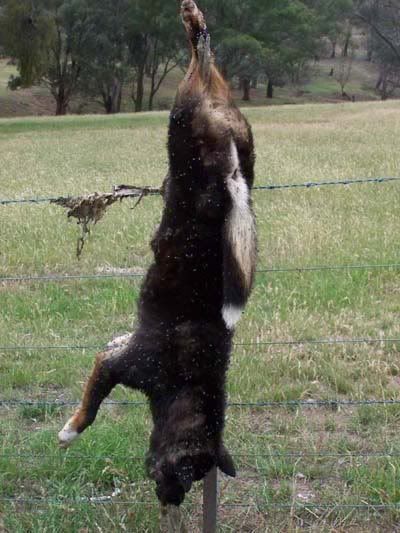 And 1080 poisoning should be looked at too. This is a Super-toxin that is one of the most poisonous substances known to man. There is NO second chance with this poison as it has NO antidote at all. And yet the government departments fly across our public National Parks and aerial bait indiscriminately. Farmers in rural areas lay it out, often without abiding by the rules, leaving it to be picked up by either pets or other animals especially after baits have been moved around. These animals die in excrutiating agony and it takes 2-24hrs of hell to finally kill them. This poison is very inhumane and even the RSPCA has condemned it. The rest of the world banned it years ago, and yet Australia and New Zealand throw it out there by the tonnes each and every year.
BUT WHAT CAN I DO?
Please please take the time to sign this petition. Show our government that this can't be hidden any longer or tolerated. Each day that goes by means more dingoes suffer and are lost. Lets not leave our children nothing but a photo or a stuffed exhibit in a museum!!
FOR MORE INFORMATION AND VIDEOS PLEASE TAKE THE TIME TO VISIT:
http://www.myspace.com/dingogenocide