PLEASE BOYCOTT THE HUMANE SOCIETY OF THE UNITED STATES-HE HAS BECOME THE OFFICIAL HSUS SPOKESPERSON AND OBVIOUSLY HAS HELPED VICK GET HIS OLD NFL JOB BACK! COWTOWING TO A DOG FIGHTER. HOW SWEET
THE HUMANE SOCIETY OF THE UNITED STATES HAS SEEN THE USDA REPORT WHERE VICK THREW IN FAMILY PETS INTO DOG FIGHTING RINGS - THEY WERE TORN TO PIECES ALIVE, DISEMBOWELED, EXTREMITIES RIPPED OUT OF THEIR SOCKETS., ETC BECAUSE VICK SAID IT WAS FUNNY TO WATCH - MEANS NOTHING TO THE HSUS
August 4, 2009
http://www.ajc.com/sports/atlanta-falcons/vick-coming-to-atlanta-107378.html
Michael Vick has cancelled a celebration in his hometown of Newport News, Va. so he can attend a Humane Society event in Atlanta.
* Bradley: How Vick can improve his image
A spokeswoman for the Humane Society of the Unites States%u2019 national office confirmed Monday night that Vick is working with the animal organization, but had no details. She said the chief executive officer for the Humane Society would call a reporter shortly.
Atlanta Humane Society officials did not return phone calls Monday night.
The only event listed for Saturday on the Atlanta Humane Society%u2019s Web site is a Mend-A-Heart group counseling session for people who have lost pets.
Vick was scheduled to attend a celebration in Newport News on Saturday. The event will be rescheduled so Vick can be in Atlanta, event organizers told the Associated Pres.
Vick has been conditionally reinstated in the NFL after completing a 23-month federal sentence for running a dogfighting ring. The Newport News celebration was to be his first announced public event since his freedom.
On Monday, Vick made a surprise visit to the Landstown High School football team%u2019s first day of practice, the Virginian-Pilot reported.
Landstown coach Tommy Reamon coached Vick at Warwick High School in Newport News and supported and visited Vick while he was in prison, the paper reported.
Vick%u2019s nearly two hour visit included passing drills with Landstown receivers and a 15-minute talk with the team with no discussion of Vick%u2019s NFL suspension or jail time, the paper reported.
-- The Associated Press contributed to this report.
reinstates ex-Falcons QB Vick on conditional basis??
ADVOCATE FOR SAVING DOGSThankyou:
~Denise~
Are you kidding me????
Goodell must be on crack!!!!!!!
This murderer allowed to play again,tell me it "ain't so"


http://www.nfl.com/news/story?id=09000d5d8117f603&template=without-video-with-comments&confirm=true
PLEASE LEAVE COMMENTS!!!!!!


NFL.com
-------Roger Goodell needs to hear from us AGAIN!

PETA considered helping Vick get back into the game by making him an animal-rights spokesperson!
Subject: H$U$ IN BED WITH MONSTERS!!! Wayne Pacelle Must GO!
article by N.Winograd re. HSUS
As a rescuer who spent time in New Orleans, I can testify to the unbelieveable ego of the national HSUS organization, it's surprising inefficiency, and its arrogant assumption that l and others should kowtow to them, and rush to do their bidding. They were terrible to deal with, and I was in utter disbelief about it. But my eyes were opened and could not be closed. I have not donated since I saw their massive abuse, manipulation, and misuse of millions of dollars. I considered their conduct unethical then, and I consider it unethical now.
Sadly, their actions continue to show that they value money and power, not animals.
It's time for new leadership at the HSUS %u2013 a leadership that actually cares about animals and values their lives.Read rest of this article at the bottom of this Petition.....
"I don't think Vick needs to be forever condemned, but to make him a spokesmen for animal rights is insane. He just wants a public relations stunt to make him look good. Do you really think he cares about the treatment of animals? Is there really a difference between the abuse of pit bulls and the abuse of factory farm "food" animals. The answer is NO! "
We all know how society trains every one to revolve around the media and sports....
DO WE REALLY WANT THE MASSES TO
L@@K
UP TO MICHEAL VICK?
----That it's ok to HURT living breathing vessels as long as we are"sorry" after wards?
----That Stars can get away with TORTURE?
We dont think so!
The part I do not understand is why did PETA even consider Vick in the first place?
To promote BSL?
Vick needs to do something on his own, set an example for his kids.
I'm thinking of him moving to a third world country and dedicating himself to the hungry and hopeless, or to the lions and truly do something, then after a decade of that, maybe. That's only opinion. Mickeal Vick does not need to represent any animal until he proves himself sincere, otherwise he will only be sending a shallow message to everyone.
IN THE NEWS:
http://sports.espn.go.com/nfl/news/story?id=4180150
MAY 20, 2009-
"As Michael Vick waits for a second chance in the NFL, the Humane Society of the United States, the nation's largest animal welfare group, has decided to offer Vick the opportunity to help prompt change in society.
It is a development that certainly will go a long way toward helping Vick rehabilitate his image in the eyes of the public at large and potential employers in particular. Wayne Pacelle, president and CEO of the Humane Society, says the group plans to partner with Vick in developing programs aimed at eliminating dogfighting."
______END QUOTE____
VICK LOVES HIS PITTIES - DEEP FRIED! - ELECTROCUTED DOGS THE VICK WAY!



Rehabilitate his IMAGE. That's all it is: An image so he can play ball again. Let's take a closer look at VICK and see just how "remorseful" he really is-as evidenced by the USDA report of the Michael Vick investigation report, and how VICK lied to the Court system initially before his friends turned him in.
You know what really makes VICK worse than gangs doing dog fighting?
Consider why most people do dog fighting: They make MONEY off of it. LOTS of money. You are talking $50,000 to $100,000 per dog fight.
VICK was already a multi-millionaire. Vick did it not for the money-BUT THE FUN OF DOG FIGHTING-IT WAS HIS ENTERTAINMENT. This does make it far worse. Vick is a sadist who enjoys torturing animals.
As evidenced by the USDA report that he threw in FAMILY PETS in dog fighting rings because "he thought it was funny", and this activity has been going on for years, and as evidenced that he initially LIED to the Courts and denied ALL dog fighting "I will clear my good name," until his friends turned him in so he changes his story. SO THIS PROVES HE IS A LIAR AND IS CAPABLE OF LYING TO THE COURT SYSTEM. This man Vick has the conscience of a cockroach. IF VICK EVER PLAYS NFL AGAIN-God help our nation-this should NEVER be a role model for the nation's young-and the escalation of dog fighting and even FBI profiling has proven young people who torture animals are at high risk of becoming serial killers and violent criminals. God help us. Our nation is violent enough.
Now the Humane SOciety of the United States wants him back on the NFL? Maybe the Humane Society wants to make money off of Vick's fame
Isn't going to work. I'm withdrawing ALL contributions to them-IT WILL BE A COLD DAY IN HELL I EVER GIVE A DIME TO THE HUMANE SOCIETY OF THE UNITED STATES
How nice-now the HSUS is going to paint a rosy picture of Vick so he can play NFL again and become the hero of millions of young people who know Vick is a dog fighter, and will help to promote dog fighting by his presence in the NFL. Nice going HSUS. ALL OF MY DONATIONS TO HSUS ALL HAVE STOPPED AS OF NOW!!! - BACK STABBERS!!!
According to the USDA report, Vick threw in his family pets into the ring of pit bulls because he thought it was funny. This has been going on for years. When the Courts for questioned him Vick denied all dog fighting and changed his story when his buddies ratted on him - this man has the conscience of a cockroach
I GUARANTEE ALL VICK WANTS TO DO IS PLAY NFL AGAIN AND IS TRYING TO GET SOME PUBLIC RELATIONS--THIS IS PHONEY BULL SHIT!! HUMANE SOCIETY OF THE UNITED STATES--YOU ALL SUCK!!!
http://www.google.com/hostednews/ap/article/ALeqM5i7-xD0cj3P7v5MBdDQ7zcFuKaEzQD989H27G1
AP Newsbreak: Humane Society will work with Vick
By HANK KURZ Jr. %u2013 5 hours ago
RICHMOND, Va. (AP) %u2014 The Humane Society of the United States says Michael Vick wants to work with the group on a program aimed at eradicating dogfighting among urban teens.
Society president Wayne Pacelle tells The Associated Press that he met with Vick at the federal prison in Leavenworth, Kan., and that the meeting came after Vick's legal team approached the animal-rights group.
Vick was convicted of financing a dogfighting ring and participating in the executions of poorly performing pit bulls and has spent the past 19 months in federal prison. He's due to be released to home confinement this week.
____________________________
DOING THE MICHAEL VICK!
YEAH DOIN' THE MICHAEL VICK TREATMENT!
YEAH HUMANE SOCIETY OF THE UNITED STATES WANTS HIM PLAYING NFL AGAIN! SO THEY ARE GIVING HIM A HELPING HAND!
USDA REPORT DETAILS VICK INVOLVEMENT
http://m.11alive.com/news.jsp?key=93294
USDA Report Details Vick Involvement
November 25, 2008 18:53 PM
RICHMOND, Va. (AP) -- Michael Vick put family pets in rings with pit bulls and thought it was funny watching the trained killers injure or kill the helpless dogs, a witness told federal investigators during the dogfighting investigation that brought Vick down.
In a 17-page report filed Aug. 28, 2008, by case agent James Knorr of the U.S. Department of Agriculture and released Friday under the Freedom of Information Act, a person identified as confidential witness No. 1 said Vick placed pets in the ring against pit bulls owned by "Bad Newz Kennels" at least twice and watched as the pit bulls "caused major injuries."
The witness said Vick and co-defendants Purnell Peace and Quanis Phillips "thought it was funny to watch the pit bull dogs belonging to Bad Newz Kennels injure or kill the other dogs."
Vick was sentenced to 23 months in prison in Dec. 2007, and is due to be released from the federal prison at Leavenworth, Kan., on July 20, 2009. He returned to Virginia on Thursday and is being held in Hopewell pending his appearance in Surry County Circuit Court on Tuesday, where he is expected to plead guilty to two felony charges but receive a suspended sentence.
The report, which has some names and other information redacted to protect some of the parties involved, also details the killing of several dogs at property Vick owned on Moonlight Road in Surry County in mid-April 2007, just days before the first search warrant was executed on the property, turning a drug investigation into the one that sent Vick to prison.
It says Vick was administered a polygraph test by the FBI in October 2007 and denied taking part in the killing of dogs in mid-April. When told he had failed that part of the test, Vick recanted his story and admitted to helping hang six to eight underperforming dogs.
The former Atlanta Falcons quarterback, once the highest paid player in the NFL, has been suspended indefinitely by the league and his football future is uncertain. He's also in the midst of bankruptcy proceedings with $16 million in assets and $20.4 million in liabilities.
Peace, who also was convicted in the case, said there were times he suggested that dogs unwilling to fight be given away, but that Vick said "they got to go," meaning be killed.
The dogs were killed by shooting, hanging, electrocution and drowning, and in at least one instance, according to one of the witnesses, when Vick and Phillips killed a red pit bull by "slamming it to the ground several times before it died, breaking the dog's back or neck."
When he finally admitted to his role in the dogfighting operation, Vick also said he purchased his first pull bull, named "Champagne," while a student at Virginia Tech in 1999. The dog was never used in fights, but was bred with other dogs, according to the report.
Champagne was among the 53 pit bulls seized from the home in a raid in April 2007.
***PLEASE READ UPDATE #2 ON BOTTOM***
NEW YORK (AdAge.com) -- Michael Vick is in talks to become the new
spokesman for PETA.
Yes, you read that correctly. The disgraced one-time NFL superstar
serving prison time for funding an illegal dog-fighting ring is primed to do
public-service ads for People for the Ethical Treatment of Animals upon his
release later this month. According to three people with knowledge of the
matter, the proposed endorsement is part of a comprehensive PR scheme aimed at rehabilitating the quarterback.
"I'm familiar with [the plan]," said Dan Shannon, director of youth
outreach and campaigns for PETA. "We have been in discussions with Michael Vick, with his management team, about the possibility of him putting out a public-service announcement with PETA when he's out of jail. We want him to discourage people from taking part in dog-fighting. I can do it until I'm blue in the face and it might not convince anybody. Michael Vick sure can. He can say, 'Look, I did it, I was wrong, and it ruined my career.'"
Other image-changing moves
That's not all Mr. Vick will do to try to rehabilitate his image. People
with knowledge of his comeback plan said it will also include mea culpa
TV interviews, PSAs and charitable donations to other animal-rights
organizations (or perhaps the formation of his own foundation), along
with the possibility of working with PETA. But this might be the mother of all PR jobs. Mr. Vick's obstacles are many: a hard-line NFL commissioner who wants to see "genuine remorse" before reinstating Mr. Vick to the league; individual franchises that might be wary of the backlash and potential damage to their brands from signing Mr. Vick; and an
incredulous public that remains shocked by the story.
And what a grisly tale it is.
Mr. Vick, who in 2004 signed a seven-year,
$130 million contract with the Atlanta Falcons, funded the Bad Newz Kennels in Virginia, which participated in the fighting of pit bulls and also
admitted to participating in the sometimes torturous deaths of dogs that
underperformed, including death by drowning, hanging and electrocution. Mr. Vick is due to be released from federal prison on May 20 and will serve the remaining two months of his 23-month sentence under home confinement near Hampton, Va., where he will be working a 40-hour-a-week construction job.
Mr. Vick's camp includes a multitude of PR and legal handlers. His
Atlanta-based attorney, Daniel Meachum, did not return several requests for an interview. Mr. Vick's Washington-based lawyer, William "Billy" Martin,
declined to comment. It is not known if Mr. Vick's team has hired a
strategic-communication director. Mr. Vick's camp includes a multitude of
PR and legal handlers.
Before doing a deal, however, PETA wants Mr. Vick to undergo a
psychological evaluation for antisocial personality disorder. "We're suspicious this may come from a place of simply wanting to repair his public image, rather than genuine remorse," Mr. Shannon said. "He was dishonest all the way up the line until he finally had to admit to what he did, which is a hallmark of [antisocial personality disorder]. If he can't tell the difference between right and wrong, we can't get in bed with this guy. At this point, he hasn't chosen to submit to an evaluation. We hope the NFL will require that evaluation as a precondition of reinstatement. The bottom line is: Everybody knows he's going to apologize, go on Oprah and Larry King and say he did wrong, that he learned his lesson. But there's no reason for anybody to take his word for that based on the pattern of dishonesty and the severity of cruelty he took part in."
PETA's PR issues
Though PETA certainly has its own PR issues because of its extremist
positions -- the group is known for shocking advertising and stunts; it has been known to throw animal blood on people who wear fur and once sent a letter to the small town of Fishkill, N.Y., asking the community to change its name -- the organization nonetheless could give Mr. Vick's efforts a sense of legitimacy, experts said.
"It's a smart thing. He should be doing some work with PETA or other
animal-rights organizations," said Richard Levick,
president of the Washington public-relations consultancy Levick Strategic
Communications. "What the American public looks for is recognition of error, contrition and fixing the problem. There was plenty of opportunity for Michael Vick early on to have admitted his errors without admitting his legal liability, to reach out to his sponsors, animal-rights communities, the
football communities, but he did not. Despite the sometimes skeptical public reaction to such PR tours, those who shape public image said it has to be done. "Even if it is 'staged,' rehabilitation has to start somewhere, as long as it's sincere and consistent," said Drew Kerr, president and lead public-relations counsel for Four Corners Communications, a PR firm based in New York. "The public has a long history of forgiving people and creating comeback stories under the right circumstances.Both Messrs. Levick and Kerr cited examples such as Texas Rangers outfielder Josh Hamilton, who overcame a four-year drug addiction to finally reach the major leagues and make the All-Star team last year, and Michael Milken, the one-time "junk bond king" who was charged with 98 counts of racketeering and securities fraud in 1989. He pleaded guilty to six securities charges and served less than two years in prison but today is a well-known and well-respected philanthropist whom Fortune magazine dubbed "The Man Who
Changed Medicine" in 2004.
"There's a strange identification process that goes on, so if the
sincerity is there, even if it's under the master hand of a PR pro, it can
go a long way," Mr. Kerr said.
Up to the commissioner
Whether Mr. Vick can convince NFL Commissioner Roger Goodell is another
story. The league has taken no position on Mr. Vick's status since he was
suspended indefinitely in 2007. The Associated Press reported last month that at a panel discussion at Washington & Lee University, Mr. Goodell said he will meet with Mr. Vick after his legal issues have been addressed.
"At that point in time, I will want to meet with Michael, I will want to
meet with his people, I will want to meet with other professionals to
understand: Does he understand the mistakes he made and is he genuine and have remorse for those actions, and is he prepared to handle himself differently going forward? That will ultimately be my decision," Mr. Goodell told the AP.
"Our issue is trying to do the right thing and represent the NFL in the
best possible way. Michael did an egregious thing. He has paid a very
significant price for that." But he also indicated he would be open to the idea of letting Mr. Vick return. "If [Mr. Vick has] learned from that and is prepared to live a different life, I think the general public is forgiving on that when people are genuine and they show remorse and are prepared to live a different life. ... That's something he has to prove to myself and the general public."
If Mr. Vick is suspended for the 2009 season, his options include the
Canadian Football League and the upstart United Football League. But even if Mr. Goodell reinstates Mr. Vick for the 2009 NFL season -- and at age 29 he does have several productive years left if he stayed in shape while in prison -- it remains to be seen which team would take a chance on the quarterback. "There is a risk, yes, but professional sports has shown over and over that they are willing to take that chance even on the biggest risks, and they don't seem to wait long, either," Mr. Kerr said.
Mr. Levick agreed, saying, "The Falcons said they weren't taking him back,
but he only has to change the perception of one of 29 other [franchise
owners]. Sports are filled with people who have been given second and third chances."
Even PETA seems willing to give him another shot. "PETA does believe in
second chances," Mr. Shannon said. "Just because somebody did something bad, it doesn't mean they're an unsalvageable person. We hope that's the case with Michael Vick."
--------------------------------------------------------------------------------------------
Please contact Mr Roger S. Goodell, the Commissioner of the NFL,
who professes to be a "dog-lover,"....and ask him not to reinstate Michael Vick at anytime for any reason. He is a liar & a fraud who has never shown remorse for his horrible crimes of cruelty against animals. Tell Mr Goodell you will support a worldwide boycott of the NFL if he does decide to reinstate Vick. .
Commissioner Goodells' Contact info can be found in the link below;
http://www.neutersickvick.com/nfl.html
We must let the world know that we will not tolerate Vick as a spokesperson for animal rights or welfare, nor will we tolerate his reinstatement to the NFL.
Thank you signers for caring about the animals.
Together, WE CAN make a difference!
**********UPDATE #2*******************
From the Blog of Wayne Pacelle:
What%u2019s Next for Michael Vick?
May 20, 2009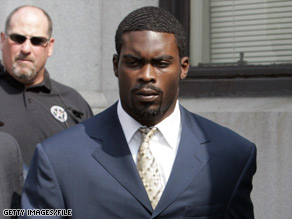 There was nobody tougher on Michael Vick than The HSUS. After sufficient facts came to light about the
happenings at Bad Newz Kennels
in Surry County, Virginia%u2014the sometime residence of Vick that had morphed into a dogfighting staging ground%u2014The HSUS urged state and federal authorities to prosecute him and we made a key confidential informant available to federal authorities, which proved vital to the case.
We also campaigned, along with others, to urge the Atlanta Falcons to drop Vick, the NFL to suspend him, and his corporate sponsors (such as Nike) to sever their ties. All of that happened, and the fuel that drove all of these actions was the rage and disgust that so many millions of Americans felt once the details came out.
Vick and the other three individuals at the vortex of the criminal network at Bad Newz should have been prosecuted and punished, and they were. They did horrible things.
Long before the Vick case, it was The HSUS, working with our allies in Congress led by Reps. Earl Blumenauer and Elton Gallegly, that drove the enactment of strong federal laws to crack down on animal fighting%u2014banning any interstate or foreign transport of animals for fighting and upgrading penalties with amendments to the Animal Welfare Act in 2002. We worked on a further upgrade of the law in 2007 to make it a federal felony to move dogs across state lines. For years, we had been working with the law enforcement arm of the U.S. Department of Agriculture%u2014the Office of Inspector General%u2014sharing intelligence on animal fighting crimes, emphasizing the corrosive impact of animal fighting on our communities, and urging them to be more aggressive in investigating cases. When the Vick case came to light, these federal authorities grabbed the torch, especially after they saw the Surry County prosecutor failing to take action. For their leadership, we honored federal prosecutors and investigators in 2007 at our annual Law Enforcement Awards ceremony.
For The HSUS, dogfighting had long been a priority concern, and we knew it was an epidemic problem, especially in urban communities. But most people considered it a relic issue%u2014a settled matter and a rare occurrence. The Vick case synced public sentiment with the scale of the problem, and dogfighting rightly reoccupied a priority slot on the animal protection agenda in America.
The HSUS tried to channel this energy in the aftermath of the Vick case, and we helped to pass a remarkable 21 new laws against animal fighting, including a third upgrade of the federal law. Thanks to our supporters, we amped up our rewards program and worked with state Attorneys General and other law enforcement agencies to advertise the program. We set up tip lines so we could gather other information. We established community-based programs to do outreach to young people at risk of getting enmeshed in the world of dogfighting. We expanded our training of law enforcement agents in investigation and prosecution of animal fighting crimes.
The HSUS End Dogfighting program mobilizes
community members.
Last year, we were involved in more than 250 busts of animal fighting operations, both dogfighting and cockfighting.
So with this record of action, I think I%u2019d be the least likely guy to end up sitting at a small table and talking calmly with Michael Vick about his interest in working with us.
But when you step back and ponder it, we are actually the most logical place for him to go. We have the most developed programs on the issue, so if he%u2019s sincere about making a difference, there%u2019s no better place to land.
I sat with the man, but I still don%u2019t know what%u2019s in his heart. He told me he did terrible things to dogs. He said he grew up with dogfighting as a boy, and that he never sufficiently questioned it as he grew into manhood.
He said this experience has been a trauma and he%u2019s changed forever. And he said he wants to show the American public that he is committed to helping combat this problem. He asked for an opportunity to help. I want to give him that opportunity. If he makes the most of it, and demonstrates a sincere, long-term commitment to the task, then it may prove to be a tipping point in our campaign to eradicate dogfighting. If he demonstrates a fleeting or superficial interest, then it will be his own failing, not ours. Our campaign will march forward regardless. It%u2019s up to him, and we at The HSUS reserve judgment until he demonstrates that he%u2019s part of the solution rather than a further part of the problem.
Maybe if there had been an intervention program in Newport News 15 years ago, a young Michael Vick would have grown to love and respect pit bulls, and he would not have done these terrible things to dogs. For me, it%u2019s not about Michael Vick and providing endless punitive treatment. It%u2019s about stopping other young people from going down the road Vick took. It%u2019s about having kids today put down their break sticks and destroy their pit bull treadmills.
We%u2019ve done a lot with the law, and with law enforcement and that work continues. But the most urgent challenge we face is interrupting the cycle of violence that leads kids down this dead end path, one that%u2019s paved with animal misery. They need to see that dogfighters never succeed. They are criminals, and there%u2019s no good outcome. Michael Vick%u2019s story is a narrative they need to hear.
In Bed with Monsters May 25, 2009 by Nathan J. Winograd
Over the years, Wayne Pacelle, the CEO of the Humane Society of the United States, has shown how little he appears to care for animals. Time and time again, he has taken positions that are the antithesis of what you would expect from the head of the nation%u2019s largest animal protection organization. Time and time again, he has sided with regressive and even cruel animal shelter directors, championed the killing of dogs and cats, and worked to hinder the progress of the No Kill movement. From Tangipahoa Parish, LA where he legitimized the unnecessary mass slaughter of shelter animals to Wilkes County, NC where he embraced the mass slaughter of dogs. From San Francisco, CA where he fought shelter reform legislation which would have saved lives to the post-Katrina Gulf Coast, where he claimed %u201CMission Accomplished%u201D and left with tens of millions in HSUS bank accounts which belonged to the animals who continued to suffer. From legitimizing a round up and kill campaign for cats in Randolph, IA to fear mongering over the bird flu by telling people not to help, feed, or touch stray cats but to call animal control when they see them, agencies with a history of mass slaughter, even as the World Health Organization was telling people cats posed no risk. From New Orleans, LA after Hurricane Gustav where he fundraised off the largest evacuation of animals in U.S. history conducted by a rescue group by falsely claiming it was an HSUS effort, to Virginia where he demanded that the Vick dogs be killed only to fundraise off
of them by telling donors that they were caring for them, when they were NOT!!!.
Given a history of anti-animal positions he has taken, it would seem unlikely that Pacelle could choose to do anything that would still have the power to shock us. But I must admit that Pacelle stunned me with how truly low and vile he has sunk with his latest scandal: helping Michael Vick%u2014the most notorious animal abuser of our time%u2014reform his image.
On hearing the news of Pacelle%u2019s embrace of Vick, Bad Rap, one of the groups who helped care for Vick%u2019s victims, responded: I just can%u2019t get myself away from the swimming pool in Vick%u2019s yard. I first learned about it while riding in the back seat of a federal agent%u2019s car that sweltering Tuesday back in Sept 07. The agent was assigned with escorting us to the various Virginia shelters so we could evaluate %u201Cthe evidence%u201D otherwise known as 49 pit bulls - now known as cherished family pets: Hector, Uba, Jhumpa, Georgia, Sweet Jasmine and the rest. I%u2019m not sure if sharing insider information with us was kosher, but you know how driving down long country roads can get you talking. I imagine she just needed to get some things off her chest. She said she was having trouble sleeping since the day they exhumed the bodies on the Moonlight Road property. She said that when she watched the investigators uncover the shallow graves, she was compelled to want to climb in and pick up the decomposing dogs and comfort and cradle them. She knew that was crazy talk, and she was grappling with trying to understand such a surprising impulse. Her candor set the tone for this entire saga. Everyone we worked with was deeply affected by the case. The details that got to me then and stay with me today involve the swimming pool that was used to kill some of the dogs. Jumper cables were clipped onto the ears of underperforming dogs, then, just like with a car, the cables were connected to the terminals of car batteries before lifting and tossing the shamed dogs into the water. Most of Vick%u2019s dogs were small - 40lbs or so - so tossing them in would%u2019ve been fast and easy work for thick athlete arms. We don%u2019t know how many suffered this premeditated murder, but the damage to the pool walls tells a story. It seems that while they were scrambling to escape, they scratched and clawed at the pool liner and bit at the dented aluminum sides like a hungry dog on a tin can. I wear some pretty thick skin during our work with dogs, but I can%u2019t shake my minds-eye image of a little black dog splashing frantically in bloody water %u2026 screaming in pain and terror brown eyes saucer wide and tiny black white-toed feet clawing at anything, desperate to get a hold. This death did not come quickly. The rescuer in me keeps trying to think of a way to go back in time and somehow stop this torture and pull the little dog to safety. I think I%u2019ll be looking for ways to pull that dog out for the rest of my life.
So that%u2019s where I%u2019m at. A second chance for Vick? An HSUS sponsored spokesman for ending torture? In my mind%u2019s eye Vick is still in the shadows at the side of that pool. As many times as this scene plays out my head, he hasn%u2019t yet moved towards that dog to pull him out. Not there yet.
Even PETA, a butcher of a different sort, finally got it right: To clarify misleading stories regarding PETA and Michael Vick, PETA withdrew its offer to do a TV spot with Michael Vick last winter when a U.S. Department of Agriculture (USDA) report on Vick%u2019s dog fighting activities revealed that he enjoyed placing family pets in the ring with fighting pit bulls and that he laughed as dogs ripped each other apart. PETA believes that this revelation, along with other factors in the report, fit the established profile for anti-social personality disorder (APD), and we called on Vick to have a brain scan to help confirm this. People diagnosed with APD are commonly referred to as %u201Cpsychopaths.%u201D They are usually male, prone to lying and manipulation, often take pleasure in cruelty, and cannot feel genuine remorse, which frequently leads to recidivism. PETA had previously been in talks with Vick%u2019s management, public relations, and legal teams about shooting a public service announcement to help combat dog fighting, upon Vick%u2019s release from prison. In December, after consulting with psychiatrists, PETA withdrew the offer for the TV spot, and in January, we called on NFL Commissioner Goodell to require that Vick undergo a brain scan and full psychological evaluation before any decisions were made about the future of his football career.
Everything to Lose
When the Vick case occurred, the entire nation was horrified. The public%u2019s outrage was unequivocal. This was the correct response, and a symbol of just how much people love dogs. But Pacelle, the leader of the nation%u2019s largest animal protection group, is asking people to question that outrage and response. His actions threaten to paint a sympathetic portrait of Vick, despite Vick%u2019s true one-dimensional nature as a sadist who takes pleasure in torturing and killing dogs. Ultimately, the lesson this embrace of Vick imparts is that the brutal abuse, torture, and killing of dogs is forgivable. That they are only dogs. That the public%u2019s response to the Vick horror was misplaced and overblown. In the end, Pacelle is helping Vick create a false image of himself as %u201Creformed%u201D so he can play in the National Football League again; to avoid the consequences of his actions by getting back the most important thing he cares about%u2014even as he took away from many dogs the thing that mattered most to them: their very lives. After the depths of Vick%u2019s depravity were fully revealed, the punishment was swift and severe, as it should have been. He was banned from the NFL. He was convicted by the federal courts. He was sent to prison. He was bankrupted. He was despised by the American public. Now, Wayne Pacelle is asking us to sacrifice this precedent. After all, if the head of HSUS is willing to forgive, why shouldn%u2019t the public and the NFL?
Are we really willing to lower the bar on how our society should react to such blatant animal cruelty in order to help a vicious animal killer? What could we possibly stand to gain that would be worth undoing that? Are we really that gullible that we believe Vick can actually influence people not to fight dogs? Are we really going to believe that a PSA or neighborhood talk is going to make people who enjoy watching dogs tear each other apart suddenly have a change of heart? Even if there were a small chance that this was so, without integrity, the %u201Clesson%u201D he is supposed to impart will fail. And it is no surprise that Pacelle can%u2019t anticipate this because he himself appears to lack sincerity for the cause. So we are left with the question of whether we are really going to accept a few meaningless PSAs and public appearances for an end to the permanent, righteous consequences that Vick must endure by remaining reviled as a monster; by never being reinstated in the NFL; by remaining bankrupt so he cannot afford to rebuild the %u201CBad Newz Kennels.%u201D Working to dissipate the righteous anger, working to remove the consequences of Vick%u2019s actions, Pacelle is opening a new chapter to a story that already had the best of possible endings our movement could have hoped for: When Vick was caught torturing innocent animals for sadistic enjoyment, he received a permanent and lasting punishment. He lost his freedom, he lost his career, he lost his money, he lost his reputation, he lost virtually everything. That is exactly how the story should stay ended. And Pacelle%u2019s actions threaten to undo it all.
Nothing to Gain
In the process, Pacelle is helping undermine that which we achieved%u2014showing dog fighters the high cost of punishment; sending the message that dog fighting is unforgiveable and will be met with swift, complete, and permanent recrimination. To embrace Pacelle%u2019s position, we have to believe that Vick has become a repentant animal abuser who now wants to help dogs. To justify all that we stand to lose as a movement%u2014all the dogs stand to lose%u2014we have to believe that Vick holds the key to ending the scourge of dog fighting. It would be foolish and na%uFFFDve to do so. Vick could not care less about stopping or preventing dog fighting. Vick did not have a cathartic realization he was wrong. This isn%u2019t some soul searching effort to make amends. He got caught, pure and simple. Even his guilty plea was not a sincere admission of guilt but a strategic decision (given the overwhelming evidence and a certain conviction) to avoid federal sentencing guidelines which would have locked him away for far longer if he did not plead guilty. And even while he was pleading guilty, he denied killing dogs. Had he not been caught, Vick would be torturing and killing dogs, and taking great amusement in it, to this very day. Our work is about protecting animals, not embracing their abusers. And because our movement stands to gain nothing by this association, Pacelle is asking us to sacrifice the former for the latter. And in so doing, he is undermining our movement. Tragically, it is not the first time.
Finding Our Voice
Through HSUS, Pacelle has: Participated in the slaughter of some 150 dogs, including puppies, in Wilkes County; Lobbied to stop No Kill legislation in San Francisco; Lobbied to stop No Kill legislation in King County, WA; Supported breed discriminatory legislation in Indianapolis, IN; Told USA Today and Newsweek that killing in shelters is acceptable and that No Kill was warehousing; misled the public about an epidemic of dog bites to convey the view that trying to save Pit Bulls was irresponsible and put children at risk; Told the court to kill Vick%u2019s victims even as he was asking people to give HSUS money so he could %u201Ccare%u201D for them; Left New Orleans with tens of millions given to HSUS for the victims of Hurricane Katrina even while those animals were still suffering; Legitimized the slaughter of virtually every animal at Tangipahoa Parish animal control; Told people not to adopt animals during the holidays, effectively accepting the deaths of 1,000,000 animals as the alternative; Told the Randolph, IA community that he did not have a problem killing stray cats. And now this.
This unconscionable, abhorrent, and vile embrace of a sadist who takes pleasure in the torture and killing of dogs. This movement has been too forgiving of Pacelle. Time and time again he has acted in a way that is the antithesis of what the leader of an animal protection movement is supposed to do. Still, activists in this movement fail to condemn him, even as he now asks us to embrace the most notorious animal abuser of our time. To be equally forgiving of that monster, as we have been of him. Can anyone imagine the National Coalition Against Domestic Violence embracing wife killer O.J. Simpson to help him regain his image? Can anyone imagine the National Organization to Prevent Sexual Abuse of Children embracing pedophile John Geoghan to help him regain his image? Can anyone imagine the Rape, Abuse, and Incest National Network embracing rapist Josef Fritzl to help him regain his image? It is unthinkable. And yet we in the animal movement, under Pacelle%u2019s direction, are threatening to do this very thing, to having our movement embrace our version of Simpson, Geoghan, and Fritzl as a spokesman. It is beyond obscene. It is unthinkable.
When someone tells and shows us over and over who they are and what they stand for, we should believe them. No one can doubt that Vick is a monster. But sadly, despite the heartfelt pain expressed so eloquently about the dogs drowning in Vick%u2019s backyard while he sadistically enjoyed himself, even Bad Rap, who deserves nothing less than unbridled accolades over their role in saving some of those poor dogs, refuses to see and condemn. Pacelle for who and what he is. That is our movement%u2019s own myopia. Just because Pacelle claims to value animals and he works for an organization with %u201Chumane%u201D in its name doesn%u2019t mean either is true. His actions time and again belie both claims. Which is why Bad Rap%u2019s conclusion about Pacelle%u2019s decision to embrace Vick as a spokesman that they are %u201Cnot there yet%u201D is not enough. None of us should ever be there. Ever.
If the dogs Vick tortured and Pacelle lobbied to have killed by the court could speak on their own behalf, their condemnation would be unequivocal. As they cannot, it is our solemn duty to do it on their behalf. And it is a trust we must not betray in deference to the power and position of those in our movement who abuse that power and betray our cause. As with any social justice movement, progress requires us to courageously defend what is right, even when doing so places us at odds with those in positions of power. We must put our allegiances to our ideals above allegiance to personalities and institutions. And this compels us to expose, reject, and condemn those in our midst who masquerade as leaders, such as Wayne Pacelle, but who use that power to willfully undermine our goals. It is time for Pacelle to resign. It is time for him to leave us, and the animals, alone.%u2666
My verdict: Guilty, as charged. Pacelle must go.
SOURCE