A Day Without a Woman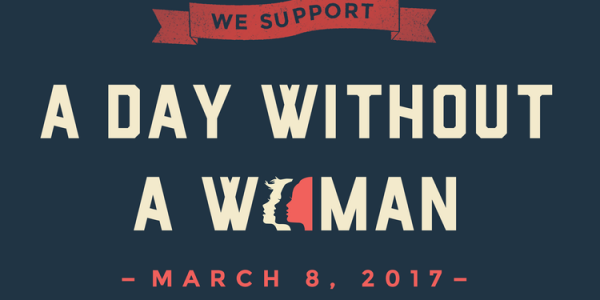 The Women's March on Washington was a wild success and show of solidarity for progressive causes across the world. Next big step from them?
On March 8, International Women's Day, women all over the globe will be purposefully taking themselves out of the paid and unpaid workforce for a day. Let me be clear: this world runs on the backs of women. Here's what the organizers have to say about it:
"In the same spirit of love and liberation that inspired the Women's March, we join together in making March 8th A Day Without a Woman, recognizing the enormous value that women of all backgrounds add to our socio-economic system – while receiving lower wages and experiencing greater inequities, vulnerability to discrimination, sexual harassment, and job insecurity. We recognize that trans and gender nonconforming people face heightened levels of discrimination, social oppression and political targeting. We believe in gender justice."
My favorite part of what is bound to be a HUGE effort is that it acknowledges that we cannot all afford to strike. Some of us work hourly and cannot miss out on the wages for that day. Some of us have no option but to care for children or parents that day. In fact, as a worker here at Care2, I decided that actually stopping work didn't make sense for me as my work is for these exact rights and practices.
So for folks who can't afford to strike for whatever reason, there are still ways to help! Here are the options:
Strike if you can! Show the world what a #DayWithoutAWoman is really like.
Use your wallet! Don't spend money on Wednesday, March 8, unless it's at a small, female owned business. We drive the economy, ladies, let's make that clear.
Wear red in solidarity! If you have the freedom to dress how you like at work or school or wherever, do it. Even if it's just a scarf or hair pin or red lipstick. Show everyone around you that you stand with this effort.
Can you strike? Maybe you can start a petition asking your coworkers to pledge in joining you! Maybe you are partners to a dude and you can get him and his other dude friends with female partners to commit to doing ALL the household work, childcare labor, etc. that day! Do what you can. Do whatever you can. And tell your whole social network about it, too. The organizers over at the Women's March has created these nifty little graphics for you to share!