Care2 Reinvents Citizen Activism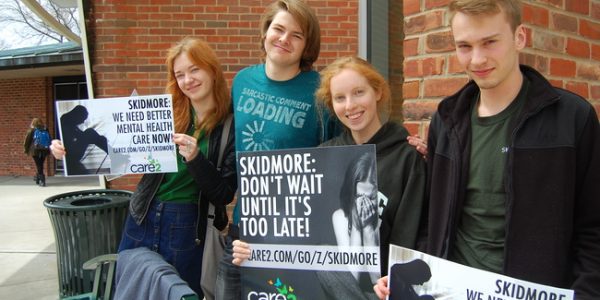 "An online petition site is changing how some student activists operate by offering them free coaching, advice on how to 'optimize' their demands, and even protest posters," reads the lead to the Chronicle of Higher Education's profile story on Care2.
"At first, I thought there must be a catch, because nothing is that good," said Valerie Janovic regarding her experience working with Care2. "Then it turned out that it was that good." Valerie had a panic attack this semester and sought out help from her college, Skidmore University. She was denied the same day service she desperately needed due to the school's lack of mental health care resources. Enter Care2.
Valerie knew that what happened to her wasn't right, so she started a petition on Care2.com to ask for adequate mental health care for students. The Chronicle piece goes on: "What she never expected was that a professional would contact her, coach her, and ultimately help her attract more than 50,000 signatures in support. And she definitely did not anticipate that someone would actually mail her protest signs and ship her the 1,000-page petition containing all the signatures — which was 'really heavy,' she said with a laugh."
Care2's Organizer Lacey Kohlmoos reached out to and stood by Valerie every step of the petition's journey into Skidmore administrators' hands. The effort was ultimately deemed a success after the petition and a May 3rd rally organized by Lacey and Valerie caused the school to hire an additional psychologist, contract a 24-hr hotline and commit to reorganized counseling services so that students suffering from a panic attack or breakdown can be seen in a timely manner.
The Chronicle of Higher Education asked Lacey more about her position and working with students. The piece says of Lacey that "working with students like Ms. Janovic is a highlight of her job. She's also worked with students at American University who wanted to improve the institution's response to reports of sexual assault, and with an individual at the University of Alabama who was offended by a Confederate flag hanging in a dormitory window and wanted the flag banned from the campus."
The piece continues: "Among the most valuable bits of assistance Lacey says she's provided: unpacking the bureaucratic language used by campus administrators. Like understanding that 'we'll take that under consideration' is not a 'yes,' she said." This kind of organizing and coaching is Lacey's day to day job. The best part? Lacey's help is available to all Care2 petition authors at no cost.
"Care2 is funded through advertisements and partnerships with nonprofit groups," The Chronicle explains. Among other staffers at Care2 is Campaign Writer Kelsey Bourgeois. Last month, Care2 sent Kelsey to Utah to lead a protest rally and petition delivery at Brigham Young University. The author of the petition in this case is sexual assault survivor and BYU student Madi Barney. She is asking BYU to implement an immunity clause to their honor code for survivors of sexual assault to encourage them to come forward.
Kelsey told The Chronicle that the BYU cause is 'her baby.' She reached out to Ms. Barney, who says she's been punished under the school's honor code for reporting an off-campus sexual assault, after feeling a personal connection to the 'victim-blaming culture' Ms. Barney was experiencing."
Kelsey is also a survivor of sexual assault and did not come forward due in part to the school's honor code. "It's the 26-year-old Utah native's day job to comb through petitions started on the for-profit, online platform Care2, where she works as a campaign writer, then reach out to people who spearhead a cause, and help them. Other times, as in the BYU case, she suggests the cause and helps an interested party assemble a petition. Then she coaches participants to 'optimize' their demands. This can mean polishing the writing, attaching an eye-catching image, connecting student activists with Care2's PR firm, Unbendable Media, and even providing tangible goods like printouts and posters." explains the Chronicle of Higher Education.
Care2 can also host paid ads on FaceBook, geotarget petitions, and help organize an effective petition delivery. With Care2's experience and resources, many petitions are eventually declared a "win." But even when a petition doesn't yield the exact result asked for, it can still be a powerful impetus for change. Sometimes this means contributing to the public conversation in a truly populist fashion and other times it's public pressure on the powers that be.
Another result of Care2 petitions can be awareness and solidarity. About the status and effect of the BYU petition, which is still actively being worked on, Ms. Bourgeois said: "To see these 113,000 signatures of people saying, This is not OK, definitely feels like 113,000 people saying to me, You didn't deserve this…. My hope is that other women and men who read the petition and hear about this also have that experience where they realize they are not alone."
The Chronicle's piece finished with the following from Kelsey: "With student organizers, they don't have money to spend on a protest," she said. "But they do have the passion, and we can use that and help them assert change." Echoing Kelsey's sentiment, Ms. Jonovich of the Skidmore petition said that "she had always been an advocate for creating change but didn't know how to go about it. 'Then they swooped in and said, Here's how.'"
Care2 is a community of 35 million standing together for good. Anyone can start a petition, and there is a team of professionals like Lacey and Kelsey ready to help them make it win.