For Activists, A Photo is Worth More Than 1,000 Chants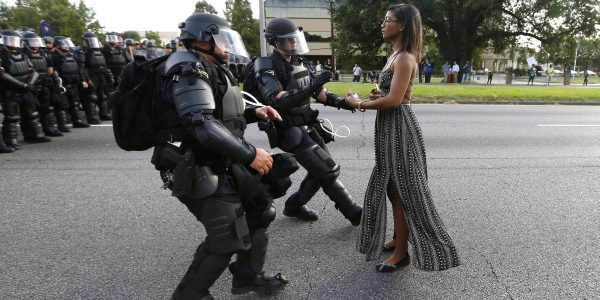 Look at the photo of this woman for a moment. What catches your eye? Is it the way she stands, completely peaceful and at ease, as police clad in riot gear rush up to arrest her? Is it the calm expression on her face as she allows herself to be grabbed and handcuffed? Or is it the stark reality that this is what we have come to?
This astounding photo was taken by Jonathan Bachman at a peaceful protest two days ago in Baton Rouge. The protest was organized after a Black man named Alton Sterling was killed by police outside of a convenience store last week, while he was pinned to the ground.
Outlets like the Washington Post and The Atlantic are comparing this photo to the iconic 1989 photo of an unknown protester (nicknamed "Tank Man") who stood, alone, in front of a column of tanks the morning after the Chinese military suppressed protests in Tiananmen Square, China.
As people in the United States grapple with the reality of race, police brutality, and activism in our country, images like this one cannot be understated. In one swift moment, this photo captures all of these complexities — in a way that anyone can see. In a way that anyone can recognize and understand. And feel.
Learn more about the power of images and how you can use them to spread the word about your cause at our Activist University webinar.