IMPORTANT UPDATE ~ THE WOLF IS FREE!!!
The Ministry of Environment in Albania have issued the following notice on their website :
The Ministry of Environment, Forests and Water Administration would like
to inform that Mr. Rrok Hoti (Kurbin region) has released the Wolf Canis lupus in the forestry economy Mal-Bardhe (Kurbin region).
The Forestry Service Directorate of Lac in its letter Nr. 90 on 06/06/07 informs that the release of the Wolf took place after the communication with Mr. Hoti that the imprisonment of the wolf violates the acts 20, 21 and 23 of the Law Nr. 9587, on 20.07.2006 "For the preservation of
biodiversity". Furthermore the imprisonment violates also the acts of
Regulation Nr. 1 on 23.02.2005 "For the protection, management of wildlife and hunting" in accordance with the Law nr. 7875 on 23.11.1994 "For the protection of wildlife and hunting".
Source :
http://www.moe.gov.al/cms_en/
At this time this petition is being left published and will be sent in order to help the donkey and hopefully bring attention to the worldwide concern regarding animal welfare in Albania. We wish to see the animal welfare regulations brought upto date and will use this petition to help that progress. Please keep signing!!
Thank you to all who have signed and taken part in the action alert. All of you have helped to free this wolf.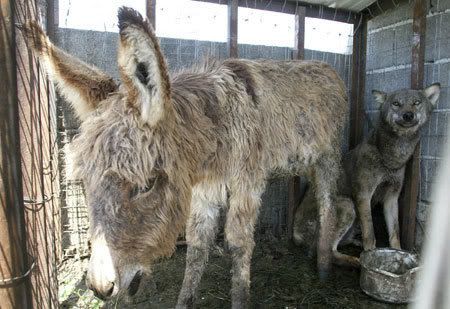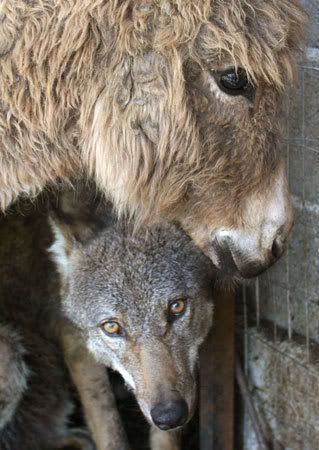 A wolf and a donkey share a cage in the northwestern town of Patok in Albania, about 40 km (25 miles) from capital the Tirana, May 9, 2007. The donkey was brought into the enclosure to be fed to the wolf, which was caught in the northern Albanian mountains four months ago. The animals have since become attached to each other, cohabitating in the cage for the last 10 days, and attracting curious villagers and local media.
These poor animals live in misery, the scared wolf cowers behind his donkey companion. They live in appalling filthy conditions with little room.
Please be a voice for these animals and ask for their freedom and for them to be released to a sanctuary where they will be properly cared for and in an appropriate environment.
UPDATE from myself, the author :
A group of us are working hard to help these animals and we do have a sanctuary to take them and transport provided. We are now appealing for assistance from an animal organization inside Albania to help us.
IMPORTANT UPDATE 19.05.07


The donkey is now cagefree
The wolf is still in the cage
The owner has the intention to build a zoo and buy other wild animals!!!


We are still working hard to help both animals.
IMPORTANT UPDATE FROM WSPA 21.05.07

I received the following message from WSPA on Monday 21.05.07



Through one of our member societies in Albania we located the donkey and the wolf. We contacted the local Mayor of the Commune, but where unable to get any help in this matter. The farmer is at present unwilling to release the animals due to the potential profit to be made on the story.

We are trying to contact the Ministry of Environment to put pressure on them to force the release of the animals. Furthermore, we are contacting the Forest and Water Administration who are directly responsible for the protection of wildlife.

I understand that this maybe distressing and frustrating, but I assure you the WSPA is doing its utmost to resolve this situation.


We are working harder than ever now for the freedom of the wolf and relocation for both animals to sanctuary and/or suitable environments. Many more people, organizations and groups around the world that we have been in contact with are doing all they can to help.

If you would like to help us further please see the Action Alert below.

Contact the Government Officials in Albania. Please keep all correspondence polite

Sample Letter to the Prime Minister of Albania, Prof. Dr. Sali Berisha - please personalize

To the Prime Minister of Albania,
Prof. Dr. Sali Berisha

Dear Mr. Prime Minister,

Some months ago in the town of Patok, a donkey was thrown into the enclosure of a wolf as live feed. However, instead of killing the donkey, the terrorized wolf looked to the frail animal for protection. Photos of the unusual friends have touched the hearts of compassionate people right across the globe.

In the meantime the hapless animals have become international celebrities and more than 12000 people have already signed a petition demanding to 'End their misery - Free this wolf and donkey in Albania'. The flood of signatures and the interest in the predicament of the animals does not cease.

The World Environment Day on 5 June 2007 represents the perfect opportunity to end this suffering by adopting the European Union's animal welfare legislation which demands freedom from discomfort, from hunger and thirst, from fear and distress, from pain, injury and disease and freedom to express natural behaviour - which easily
translates into 'Freedom for the Patok wolf'. Wolves still retain protection status in Europe and any weakening of the Albanian wolf population is certainly not in the interest of your country which is famous for its rich wildlife.

There is also understandable concern for the well-being of the donkey because he may well be thrown to another predator as feed when, as seems to be planned, more wild animals will be caught and incarcerated. After the donkey miraculously survived an illegal action, he should now be allowed to spend his natural life in one of
the many shelters offering him safe haven.

Dear Mr. Prime Minister, please exercise your influence to bring this very sad animal saga to a happy end and prevent other animals from suffering a similarly horrible fate.

Sincerely,

Your Name

Your Complete Address

Your Country

=============================

COPIES TO:

-Minister of the Environment

info@moe.gov.al

Secretary of the Environment

pabeshi@moe.gov.al

-Parliament of Albania

competitionsecretariat@parlament.al

Minister of Agriculture/District Governor

jemin.gjana@mbu.gov.al jgjana@hotmail.com

Media:

-KOHAJONE

fevziu@kohajone.com

-Balkan Web

redaksia@balkanweb.com

-STAFI SHEKULLI

kontakt@shekulli.com.al

-Shekulli Online

juri_zhupa@yahoo.com

-Gazeta Korrieri

posta@korrieri.com

-Spekter

evista_spekter@yahoo.com

=================

All e-mail addresses

TO: Prime Minister of Albania

kryeministri@km.gov.al

CC:

info@moe.gov.al

,

pabeshi@moe.gov.al

,

competitionsecretariat@parlament.al

,

jemin.gjana@mbu.gov.al

,

jgjana@hotmail.com

,

fevziu@kohajone.com

,

redaksia@balkanweb.com

,

kontakt@shekulli.com.al

,

juri_zhupa@yahoo.com

,

posta@korrieri.com

,

evista_spekter@yahoo.com