Sometime on Tuesday April 5th, Kurt Cobain passed... riding on a high of Valium and Heroin. He died of a shotgun bullet into the mouth, his smack, or Morphine (Heroin turns into this when injected into the body) level was 1.52mg per liter (of blood), Doses of smack
one third
of that are lethal. According to Medical Literature Kurt Cobain had
75 times
the lethal does for the
average person, s
peaking of a dose thats lethal for the most severe addicts. Kurt Cobain left behind a Legacy, his Grunge era, loved friends and family,
Frances Bean
his daughter, millions of fans, all of us...
Personally, im one of those people who beleive Kurt wouldnt of been able to shoot himself in the mouth after injecting three times the lethal dose. Not a Single case can be related to Kurts morphine levels. Nor a case that was close to his levels where they remained conscious for more than a few seconds after shooting up. Kurt Cobain would have been incapitated if not lapse into a coma within seconds before the needle could even be removed from his arm.
Think a few seconds is enough time for him to pull the needle out of his arm, put away the needle and the heroin paraphernalia neatly back into his cigar box a few feet away, roll down and button his sleeves, then pick up a Remington 20 gauge shotgun

place it in his mouth and shoot it?
I dont, and many researchers feel it is simply IMPOSSIBLE.

So please I ask if you beleive Kurt killed himself, to please veiw my website:
www.cobainliveson.com
And ask yourself...do the facts really fit ???
Kurt Cobains own grandfather beleives his son was the victim of foul play.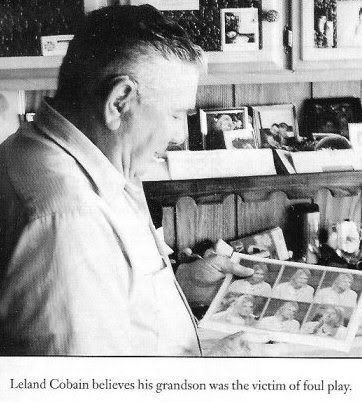 He was in the process of leaving Seattle and his wife Courtney when he was found dead, He was even in the process of taking her out of his will. Courtney Love's own father beleives she has something to do with his death:
www.hankharrison.com
If you do beleive Kurts death was staged, or that he was just plain murdered, or even if you think Kurts death wasnt given a very well or fair investigation
(in which it wasnt, on April 8th 1994 at 8:56 A.M. Kurts Body was found in the greenhouse above the garage at his home. Three hours later, before any toxicology/forensic tests were taken, this case was wrapped up and closed as a suicide.)
Hows that for a police investigation?? One of the officers on scene that day, Detective Don Cameron was recently kicked off the Seattle Police Department for accusations of theft of a crime scene, and staging a crime scene. The SPD is corrupt, widespread claims of departmental infighting, felony police misconduct, burglary, stalking, and tolerance of drug crimes by officers have been numerous and unacknowledged. Two other officers LIED in their police report of Kurt. It then took Don Cameron and the SPD TWO YEARS to admit that two of their officers wrote in the police report about marks on kurts hands that were false. There were never any marks on kurts hands to assume he fired that shotgun. Why did Jim Yoshida and Detective Steve Kirkland lie in their report on Kurt?

SEATTLE POLICE DEPT.-POLICE REPORT
Dated 4/08/94 Incident report # 94--156500
Det. Jim Yoshida and Det. Steve Kirkland
Police narrative: "The shotgun had been placed in Cobain's mouth and discharged. There were marks on Cobain's hands consistent with the firing of this weapon."


Two years later: "Yeah, there weren't any marks on his hands...Some rookie must've put that line in the police report."-Detective Don Cameron.
We need to ask these questions WHY? This was an OPEN-SHUT case of suicide!! Over 100 deaths by suicide were linked to and caused by one mans death, and all of them died beleiving that Kurt killed himself... Don Cameron has stated if anyone comes forth with enough evidence to prove this case was a murder, he'd reopen it, but he hasnt. Numerous people have come forth, including investigative journalists Ian Halperin and Max Wallace who spent nine years pouring over forensic, medical and legal evidence to form the basis of their books "The Murder Of Kurt Cobain" and "Love and Death". Yet again they too were refused...Why?? This was an open shut case of suicide!
Thankyou.
Please Scroll down past the petition if you'd like to read more...

NOTE: PLEASE USE YOUR REAL NAME WHEN SIGNING, NOT NICKNAMES.. THANKYOU!

ALSO: as of fall 2008 this petition is now being forwarded and all names on it will now be helping Tom Grant's project unplugged, and its one giant petition..
Please help support the fact kurt wasnt given a fair investigation!!!! thankyou
Over 70 teenagers committed suicide after news that Kurt Cobain was allegedly found dead from a self-inflicted gunshot wound.
Over 70 copycat deaths of bullets to the head, all were caused by one mans death. The man who brought us grunge music, Kurt Cobain of Nirvana. He was dead from a bullet to the head with a lethal dose of heroin injections in his blood. A note was found on a counter in a flowerpot nearby which stated he was leaving and how he loved all his fans. His body was discovered by an electrician who had come by the house, The man then spotted Kurt's body on the floor with blood near his hand, he quickly called the cops. Crime scene photos were taken and Kurt's death was quickly ruled as a suicide. But alot think they were terribly wrong.
Kurt Cobain was born on February 20, 1967, in 1989 he formed his band Nirvana in Aberdeen, Washington. It was formed by Krist Novoselic, a bassist and Kurt Cobain, a vocalist and guitarist. They met in 1985 and soon started their music. The band soon expanded into a multi-million dollar commercial entity, and rumors of Kurt Cobain's heroin use spread like wildfire. Kurt then soon married diva Courtney Love. An overdose of heroin in Rome sent Cobain to a Drug rehab facility in Los Angeles. Then on April 1rst 1994 he escaped from the facility and went to Seattle. He was then reported missing, until April 8th when his body was found with a "self inflicted" head shot wound.
Facts show the police and medical investigators have absolutely NO forensic evidence that proves their assumption that Kurt killed himself. There is a good amount of evidence I am about to tell you that shows and supports that Kurt Cobain WAS murdered.
Tom Grant, a California state licensed private investigator and former detective with the Los Angeles County Sheriff's Department states this of his opinion. "After several months of intensive investigation. Including dozens of taped interviews with Cobain's closest friends and family members, I reached the conclusion that Courtney Love and Michael Dewitt, (a male nanny who lived at the Cobain residence), were involved in a conspiracy that resulted in the murder of Kurt Cobain." This statement of Grant's was only the beginning.
On the other side the opposing view states how Kurt wrote a suicide note. Doses of heroin and other drugs in Cobain's body could lead him to a suicide, but a suicide not intentional. A lot of hard drugs have been proved that they can lead to depression and eventually suicide. Most point out that he sang in his music "depressive" statements.
The handwriting's from Cobain's suggestive notes look different, although many handwriting Experts have differed in opinions of the two, most have still suspected that the second WAS indeed written by another person. The dark lines on the note have been created by what Tom Grant thinks, was Courtney's fax machine. Why would Kurt write I love you I love you, at the end of his second note, if he was about to divorce Courtney, and leave her for good? He wanted to live he was just going through drug problems. He has a beautiful daughter Frances who he loved to death. He even stated in his notes that he planned to divorce Courtney and file for custody of his daughter. He loved her dearly, how many people do you know who would kill themselves after just bringing a beautiful baby girl into the world? Obviously Kurt Cobain was never suicidal, and this was murder.
But who doesn't go through a period in there life of sadness? Some reasons that so many believe Cobain's death was a murder was the fact that Kurt was planning, weeks before his death, to divorce Courtney, and she knew this. A couple days before his death one of Kurt's Credit cards was missing and someone attempted to use it. Kurt lived in fear of his own life and he carried a loaded shotgun before he even went into rehab. After his death the shotgun wasn't checked for fingerprints until almost a month later. The police said there were no legible fingerprints, but when the gun was checked it was too late to see any fingerprints at all.
Kurt never wrote a suicide note, it was overlooked and was actually a note to his fans that he was leaving Seattle and the music business. A second note was actually found in Ms. Love's possession that clearly stated he was leaving Courtney and Seattle he didn't state any obvious signs of killing himself. Kurt was also injected with a 3 times a lethal dose of Heroin, why would he shoot himself after? How? And IT has been proven based on the heroin blood levels found in his body, it was impossible for him to pick up a gun, and shoot himself, someone else injected the heroin into his body. Knowing that a heroin overdose would cover better than just the shotgun to the head. Before he left San Francisco the tires to his car were found ALL flat and Courtney then canceled his already lost credit card account.
Eldon Hoke singer of a band called the Mentors, claimed he was offered $50,000 by Courtney Love three months earlier to kill Kurt. On March 6, 1996, Hoke was administered a polygraph test by Dr. Edward Gelb, who is one of the country's leading polygraph experts. He was also teaching the advanced polygraph course for the FBI. Hoke passed a lie detector test with 99.7% certainty that he was telling the truth. Eight days after Hoke appeared on a documentary He was found DEAD.
Kurt's Death influenced rock and roll hall of fame for years to come until this day, when rockers around the world still mourn his murder. Kurt Cobain was cremated some of his ashes are scattered in a Buddhist temple in New York, and some scattered in the Wishkah River, in Washington State, the rest are with Courtney Love. Love lost custody of Frances in 2003 after being under the influence of oxycotin. Frances Bean currently lives with her mom but custody was has been lost in the past. Over 70 suicides were caused by one beautiful mans death, wont you please help give them at least justice for Kurt Donald Cobain?
For more information please visit Tom Grants website: www.cobaincase.com
And His Case Study manual (.pdf file):
http://www.btinternet.com/~teppic2000/KurtCobainCase/TomGrantCaseManual.pdf