160,000 Care2 Members Successfully Give W.Va. Officials the Boot After Racist 'Ape in Heels' Comment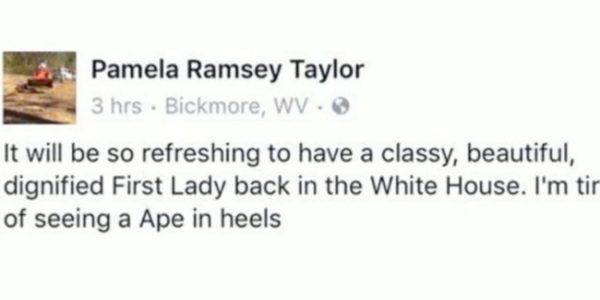 Update 12/27/16: Taylor has now been permanently removed from her position.  
Update 12/12/16: The West Virginia official who wrote the post calling Michelle Obama an "ape in heels" will reportedly get her job back. You can sign the petition calling on the Clay County Town Council to terminate her employment. 
Three days after Donald Trump was elected president, a West Virginia official wrote a controversial Facebook post: "It will be refreshing to have a classy, beautiful, dignified First Lady in the White House," wrote Pamela Ramsey Taylor. "I'm tired of seeing an Ape in Heels."
Taylor was the director of Clay County Development Corporation, a state- and federally-funded nonprofit in Clay County, West Virginia. One might expect instant rebuke from government officials after a racist comment like that, but quite the opposite happened.
The mayor of Clay, Beverly Whaling, endorsed Taylor's post by responding, "Just made my day Pam."
Taylor later deleted her post, but not before screenshots of the exchange had gained national attention.
Shortly after the Facebook post went up, a Care2 member started a petition, demanding both Taylor and Whaling be fired for the racist comment.
Here's an excerpt from the petition:
"Clay County Development Corp. Director Pamela Taylor Ramsey posted a hateful, racially motivated statement to Facebook, which was not only liked by the Clay County Mayor Beverly Whaling, but commented on in a way that showed she agreed with her comments. Every grant and piece of paper Mrs. Taylor and Ms. Whaling have to fill out and sign promises equal opportunities and a racism free workplace."
Within just a few days, the Care2 petition gathered more than 160,000 signatures from activists around the world.
On Monday, November 14, Taylor was removed from her job. The following day, Mayor Beverly Whaling turned in her resignation. Joe Coleman, the town's recorder, announced that the resignation was effective immediately.
Whaling apologized and argued that her comment supporting the post was "not intended to be racist at all." 
"I was referring to my day being made for change in the White House!" she wrote to the Washington Post. "I am truly sorry for any hard feeling this may have caused! Those who know me know that I'm not of any way racist!"
The West Virginia Democratic party issued an official apology to Michelle Obama on Twitter.
"These radical, hateful and racist ideals are exactly what we at the West Virginia Democratic Party will continue to fight against," the statement says. "We will continue to fight for a West Virginia that is inclusive, not divisive, and a home for all to feel safe, welcome and protected. In a time when we are at a crossroads and many fear the future, we must stand together against hate of all forms."
437 Hate Crimes Since The Election
The West Virginia incident is one of many racially-charged events that have happened since the election.
The Southern Poverty Law Center (SPLC) received reports of 437 incidents of harassment or intimidation within the first six days after the election. The collection is a mix of reports from news sources, social media and submissions to their #ReportHate page. 
Here are a few examples that have been reported:
The rector at a Maryland church opened his church last Sunday to find a sign advertising Spanish-language services ripped apart and defaced with "TRUMP NATION WHITES ONLY."
A high school teacher in Gwinnett County, Georgia said she was left a note in class saying that her Muslim headscarf "isn't allowed anymore." "Why don't you tie it around your neck & hang yourself with it…," the note said, signed "America!"
A Muslim woman was riding public transit in Beaverton, Oregon when a group of teenagers started yelling in her face that she was a terrorist, that our new president was going to deport her and that she can't wear her hijab anymore. After a mediator tried to get them off the train, they tried to spit on her.
Care2 Petitions Make A Difference
Care2 strongly opposes all acts of racist intimidation and threats. 
Congratulations to the activists who both created and signed the petition taking a stand against racial slurs targeting the first lady. The petition has remained open so people can sign to stand against racism and hatred. More than 180,000 people have signed the petition so far. 
If you see an example of blatant discrimination, you can create your own Care2 petition in protest. Use these simple guidelines to get started, and you will soon be supported by Care2's community.