Before you bite into that California orange, you may want to hear about our petition delivery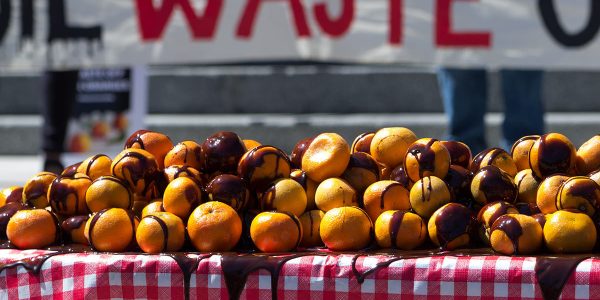 It was foggy when I left San Francisco, but two hours later, on the north steps of the Capitol Building in Sacramento, it was gearing up to be a hot day. We weren't about to hide in the shade, though: We had 350,000 petition signatures to deliver to the governor.
So we put on sunscreen and got to work.
When you plan a petition delivery event, it's hard to know how it'll turn out. Like the hour before a party I've planned, I always wonder whether people are going to show up, if I forgot something important, if I'm about to make a fool of myself. For petition events, I worry: will the media show up? Will I be the only one here?
But as the event's official start time neared, a smile spread wider across my face. Activists were filing in to join us, the press arrived and started setting up news cameras, and Sabrina and Kelley — Care2's Sacramento contingent — showed up with a wheelbarrow and a dozen signs.
Why all the hub-bub? Because in California, farmers are being forced to water their crops with polluted leftover water from oil drilling operations. The water district buys it from oil companies, adds it to clean water, and sells it to farmers. There's been no independent testing on the water — just samples taken from Chevron and others with ties to the industry. And in those samples, Chevron found a known carcinogen: benzene.
Most people in California don't know this is happening. And when they find out, they're pretty pissed off. It's kind of upsetting when we do so much to eat healthy foods only to find out that it was grown with oil waste. This isn't just a local issue, either: California is a major food grower in the United States and even exports foods to Europe.
So, next time you're chomping down on an orange or drinking some California wine, you can think to yourself, "Was this grown with chemicals from oil drilling?"
I was personally horrified to find out that our food isn't being protected from undisclosed chemicals, so I started a petition to stop the practice. Care2 is working with a coalition of environmental groups, health groups, and nurses to raise awareness and pressure the governor to intervene and stop the water board from selling oil wastewater to farmers.
With 350,000 signatures so far, we decided it was time to get the governor's attention. And it was a pretty great event — but maybe not for the reasons you'd think.
We had great speakers there, including an assemblyperson, a mom, a scientist, and a nurse. We had a display of oranges which we doused with "oil" (chocolate syrup) to help the media get some imagery that will catch peoples' attention. We recorded the delivery on Facebook Live and in less than 24 hours it's been viewed 9,000 times.
We even got someone in the governor's office to accept the signatures. Petition targets don't always accept signatures when you show up at their doorstep — more often, they hide in their offices and pretend they can't hear the people outside.
But the surprising reason I'd say it was a great event is because oil lobbyists were there, watching from the shade. We got their attention, and that is no small feat for an industry that sometimes feels indestructible.
When your opposition takes notice, it means you're doing something right.
And no wonder they were nervous — here's what we looked like:
The campaign isn't over — we've got a lot of work to do to keep this issue on Governor Brown's to-do list. So if this is the first you're hearing of it, please take a moment to add your name to tell Governor Brown that you don't want California crops grown with oil wastewater. Then check out the list below of companies that are growing food with oil wastewater, and consider starting a petition to ask them to stand against this practice.
Confirmed foods grown with oil wastewater:
Halo Mandarins
Sunview grapes and raisins
Trinchero Estates wine, including the Sutter Home brand
Bee Sweet oranges