Old-School Activism Meets 2016 Social Media: Lessons from #NoBillNoBreak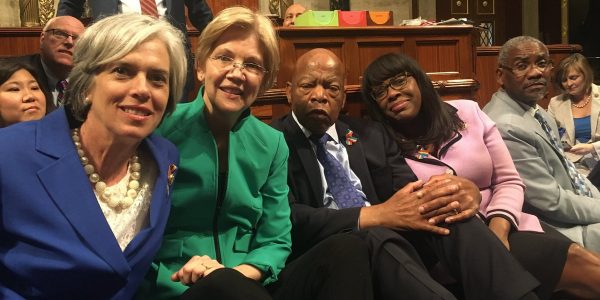 In an unprecedented event, House Democrats led by legendary Representative John Lewis staged a sit-in on the House floor. Their demand? A vote on several pieces of gun control legislation before their scheduled break in session.
A sit-in may not seem like a huge deal if you're not a C-span dork. But it was actually pretty epic. For over 25 hours, House Democrats sat on the House floor alternating between chanting, rousing speeches on the epidemic of gun violence and speculation on GOP inaction. There was cheering, cursing, late-night pizza and Dunkan Donuts. It was, in other words, a very typical protest. But when you compare that to the gavel-ruled-world of Gentlemen and Gentleladies (yes, that's a word) that Congress usually operates in, you can see why people are freaking out over this event.
But what really made this event so cool is how the rest of us watched it happen. You see, the cameras that C-span usually uses to broadcast proceedings were shut off by Republican Speaker of the House, Paul Ryan. As one tweet summed up:
GOP: "We'll just turn off the cameras."

2016 technology: "That's cute."

— Counselor Foyle (@counselorfoyle) June 23, 2016
C-span was literally livestreaming from representatives' Periscope and Facebook accounts for the majority of the sit-in. C-span requested that Speaker Ryan allow them to broadcast from the normal House cameras and get the microphones turned on, but he declined.
Dear person at @cspan who is doing a great job switching from feed to feed when one fails: thank you. #NoBillNoBreak

— Kathleen Moore (@_thleen) June 23, 2016
We were glued to it over here at Care2. Not only because we care about commonsense gun legislation, but because this was the first airing of social media C-span. The #NoBillNoBreak hashtag was trending the entire time on both Twitter and Facebook. So even if you didn't watch the sit-in, scrolling through Twitter made you feel as though you were there on the floor or outside the building with the hundreds of people who showed up in support, many of them millennials.
Social media, activism and politics collide. #NoBillNoBreak Act now: https://t.co/RITsNRgpzz https://t.co/ssTyobHyF6

— Care2.com (@Care2) June 23, 2016
A few times, Speaker Ryan reconvened to vote on unrelated measures, and House Democrats covered the cameras with the pictures of victims of the Pulse nightclub massacre in Orlando, showing just how powerful a demonstration can be. Dems shouted "Shame! Shame! Shame!" as Speaker Ryan held a vote regarding Zika that is both too little, loo late and effectively excludes Planned Parenthood.
House back in session. Democrats cover TV cameras w/ pictures of victims of #PulseNightclub shooting. #NoBillNoBreak pic.twitter.com/PAmwvkk9wt

— Michael Skolnik (@MichaelSkolnik) June 23, 2016
The effort was organized and led by Representative John Lewis, one of the last remaining crusaders from the civil rights movement in the 60's. Rep. Lewis marched with Martin Luther King, was arrested and beaten time and time again while fighting for equal rights. To watch him lead an act of civil disobedience by the government, against the government in 2016, was really powerful.
This time, the issue was gun control, but as you all know, there are plenty of issues that deserve this kind of attention.
Care2 exists at the intersection of social media and activism. We believe in the democratization of information sharing and activism via social media.
#NoBillNoBreak was a great confirmation that social media and online campaigns are not futile and silly tools, but instead powerful platforms to push for progress and change.
We all have a voice. We all can be heard. And, you can amplify your voice by joining a campaign or starting your own.
Plus, when was the last time you watched C-span like this?
When you need go to sleep but #CSpan is lit… #NoBillNoBreak pic.twitter.com/ALq0esILUw

— Pensive kitty (@PhillyPhutnotes) June 23, 2016