Success! Starbucks Will Stop Using Plastic Straws by 2020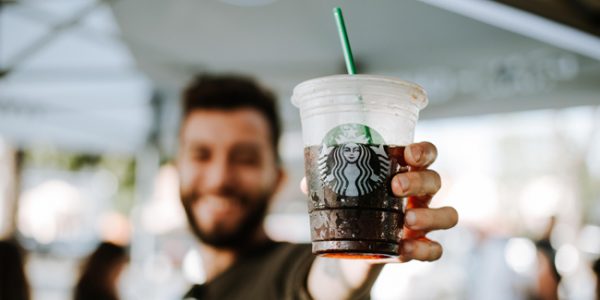 When Stephanie Muttillo, a Starbucks employee, realized the environmental dangers of plastic pollution, she started a Care2 petition demanding that her company stop using plastic straws.
"I got the idea for the petition just from the love I have always had for the environment. I have been using reusable straws and cups and decided it was time to make a difference," says Muttillo.
When she created the petition, her goal was to get about 5,000 signatures in a year. "I would then send it in to corporate and hopefully they would give me some feedback," Muttillo explains. "But one night I fell asleep it had 300 signatures, the next morning I woke up and it had 11,000. It just kept getting bigger and bigger!"
Success!
Her petition eventually garnered over 147,000 signatures, and now Starbucks has announced that they will stop using plastic straws in all 28,000 stores worldwide by 2020. 
Muttillo is thrilled! She wrote on her Care2 petition:
As a Starbucks employee, it's welcomed news to hear the company will phase out the use of plastic straws in their stores by 2020. This is an important first step to cleaning up our seas and protecting wildlife, and I am proud to see Starbucks take this step toward sustainability and promoting a healthier planet for all.
To replace those plastic straws, Starbucks will use a plastic strawless lid known as an "adult sippy cup."
The Starbucks ban begins in Vancouver and Seattle, where as of July 1, cafés, restaurants and bars are no longer allowed to give out plastic straws. Starbucks estimates that by using biodegradable straws they will eliminate more than one billion plastic straws each year.
According to some estimates, Americans use 500 million straws a day. That's a problem, as Muttillo explains in her petition: "Plastic straws are too lightweight to be recycled, and oftentimes are made out of the same plastic as Styrofoam which CANNOT be recycled."
A Growing Plastic Pollution Problem
When these straws don't make it through recycling sorters, they mostly end up in the ocean — adding to pre-existing plastic pollution.
The Great Pacific Garbage Patch is the largest accumulation of ocean plastic in the world, covering 1.6 million square kilometers between Hawaii and California. This area contains 1.8 trillion pieces of plastic, or 250 pieces of plastic for every human being in the world.
It's estimated that if we continue our plastic addiction, there will be more plastic than fish in the ocean. We must work toward reducing plastic production.
Remembering the disability community
But there's another important perspective on this issue: Consider the fact that some people are unable to drink at all without the use of a straw, perhaps due to poor muscle control or paralysis from a stroke. These disabled people literally need a straw in order to drink and stay alive, but paper straws aren't strong enough and metal straws can cut their mouths.
To solve this problem, Care2's s.e.smith suggests an opt-in program, where cafés and restaurants could keep straws behind the counter and display a "straws available by request" sign.
Still, we can all agree there's too much plastic in the world — and convincing Starbucks to phase out the use of plastic straws is a great way to start cutting back on plastic pollution. 
Congratulations to Stephanie Muttillo and all the Care2 members who signed her petition!
Thanks to Muttillo, Starbucks will join a growing list of companies including McDonalds, Alaska Airlines, the White Sox and the BBC to introduce bans on plastic. But let's hope that these companies will also implement some kind of opt-in program, so that everyone can enjoy a beverage.
Are you inspired by Muttillo's success and want to make a difference too? Why not create your own petition using these guidelines? Pretty soon you'll find the Care2 community signing up to support you.