Tip: Utilizing the Power of Images in YOUR Petition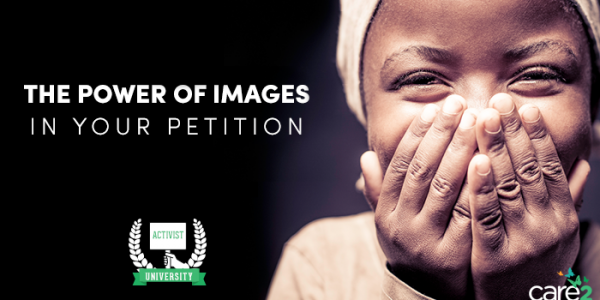 If you've ever wanted to raise awareness, attract supporters, or convince someone scrolling through Facebook to stop and take a second look at your petition, simply choosing the right photo can have a powerful effect.
During Care2's recent Activist University webinar, "Harnessing the Power of Images in Your Petition", our Creative Director, Sabrina, asked attendees the following question: Which of the two options below do you understand more quickly?
If you're like me, then you probably knew right away that it's much easier and faster to interpret the green square than the text describing the green square.
That's because a staggering 90 percent of the information sent to our brains at any given moment is visual — which is why using photos and other images is such a powerful method of communicating. Within nano-seconds of seeing an image, we respond with feelings.
If you want to learn more about how you can use the power of images to your advantage, click here to watch the full recording of Sabrina's Activist University training!
And if you're ready to go ahead and start adding powerful visuals to your petition and Facebook posts, check out our guide to the best free photo resources! If you're not sure how to choose a great photo that causes people to care about your issue, read up on what makes a heartstring-pulling, powerful visual.