Get to Know Us: Leona from Care2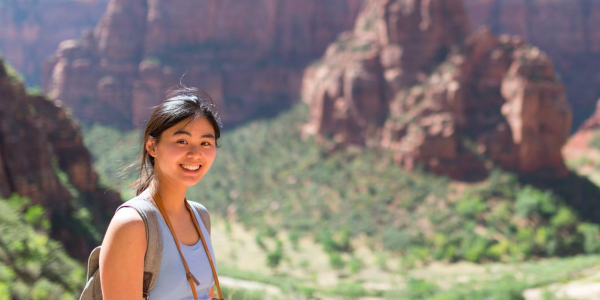 Meet Leona! She's the Online Marketing Manager here at Care2, which means she's the person in charge of getting the word out about Care2's great work on Facebook, Google — and basically all of the Internet. The fact that you're here is probably thanks to her!
When she's not at work, Leona doesn't slow down the pace. Instead, she keeps us constantly entertained with stories of her epic cooking adventures (some of which become all-day extravaganzas), weekend getaway trips, hiking treks through the beautiful California wilderness, and her favorite new films.
But that's not all! Get to know Leona a little better by reading my interview with her below:
What's your favorite activist chant ever?
"Fellow Citizens, don't you tremble. We still have the right to assemble!"
and
"We will not be silenced in the face of government violence!"
Favorite part of being at Care2?
The mission to keep fighting and stand up for what's right. My early career was in the finance and banking industry which was bureaucratic and sales-driven. But at Care2, it's very rewarding to see that my work on online marketing has a positive impact on people and the society.
What's the biggest lesson you've learned about advocacy, good or bad?
Advocacy increasingly works through the use of social networks, as well as the use of new media. With those channels, everyone can initiate a change by using Facebook, Twitter, etc. to raise public awareness and put pressure on decision-makers. These platforms offer plenty of opportunities to share and engage in conversations with like-minded people and help gather more signatures for online petitions.
How do you keep motivated?
Break my task into manageable pieces. Watch and read motivational stories or speeches. Go exercise to make myself feel more active, dynamic and to avoid procrastination!
Favorite emoji?
?
The hugging face! It's a face displayed with an open hands gesture, offering a hug.
When you get stuck on an advocacy problem, what resources to do you use to solve it?
My passionate coworkers at Care2 are definitely my go-to. Beyond that, I like to read about the latest news/trend in the marketing industry.
What's your favorite Care2 petition you've ever worked on?
This is definitely my favorite! "Bring military working dogs home." And that petition became a success around a year ago, so that makes it even more rewarding.
This interview is part of a continuing staff spotlight series. To check out the rest of the staff interview posts, click here!