Petitions 101: Here's How You Make A Petition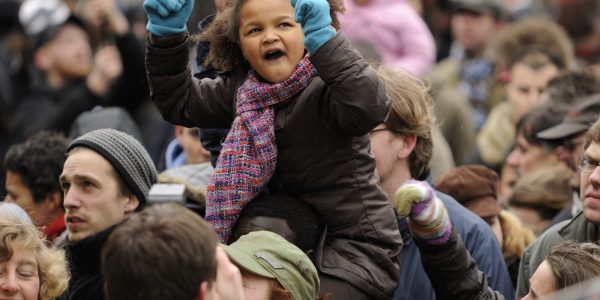 Most of us have a rhythm that we tend to follow in life. And that pattern may not include thinking of yourself as "an activist" or doing what you might consider "activist-y things." But the one day something happens. Your local hospital announces it will close as a result of government cuts, leaving your community high and dry in times of crisis. Breed-specific legislation threatens to tear your family and pets apart. An elephant at a zoo is photographed slowly starving to death. And then you just have to act.
Here at Care2, we do believe the world is fundamentally good and full of good people. But we also believe that there are times when each of us has to step up in order to keep the train of good things going. That's where Care2 petitions come into play. We're here to help you stand for good, and once you're ready to take that stand, we'll have your back.
And one of the ways we have your back is by providing you with free resources to help you become the best, most effective advocate you can be — no matter what your cause is.
If you're ready to start your Care2 petition, here's what you've got to know:
Step 1: Choose a clear and specific goal to work towards.
We all know how it feels to be hurt, confused, or upset. Now it's time to channel that energy — but first, you need to define what it is you want to change. Learn how to define your goal.
Step 2: Write an eye-catching, rallying title.
Your title is the first thing anyone will see about your petition, so it needs to be clear, short, and energetic. Read up on how to write an attention-grabbing title here.
Step 3: Write up your petition.
This is your chance to fully explain to strangers what exactly is happening, how it is wrong and concerning, and why you are trying to do something about it. Don't forget to tell your personal story, too, if you have a direct connection to your issue (and you can also tell your story even if you just learned about this issue in the news). We'll teach you how to write your petition, step-by-step, in this blog post.
Step 4: Find a dramatic, powerful photo for your petition.
This is the best and easiest way to create a direct emotional connection with your readers. Want someone to deeply care about your issue? Choose an evocative photo. Let us help you — read our top tips.
Step 5: Choose a decision-maker to target.
This person will be the recipient of your petition, once you feel like you've collected enough signatures. They should be someone in a position of authority who is able to make your goal a reality. Not sure how to choose your target? We'll teach you how.
Congratulations! Now you're ready to start your own Care2 petition, a serious step toward making a real and lasting difference. And we are so, so glad to have you here.