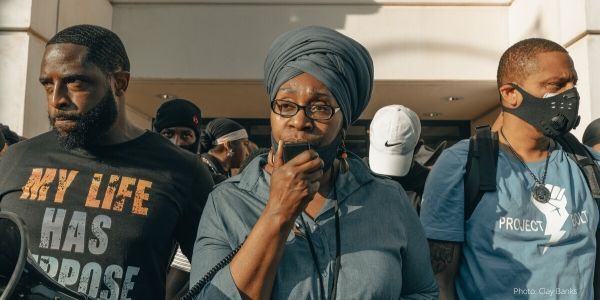 Care2 was built as a platform for creating positive change in the world. While together we've accomplished much, the events of late are incredibly painful reminders of how much more needs to be done to overcome deep systemic racism in our society. 
We at Care2 unequivocally condemn the rampant racism, white supremacy and police brutality that is commonplace in the United States and around the world. We have been and will continue to demand accountability for the murders of George Floyd, Breonna Taylor, Ahmaud Arbery, Sandra Bland, and too many more.
As protests against racism and police brutality have formed across the United States, I have been sickened by the many videos showing unnecessarily violent police action targeting people of color, peaceful protestors and journalists. These are not isolated incidents nor the result of individual failings; police brutality is widespread and reflective of deep, systemic failings in our law enforcement culture and procedures.
I hold a great deal of privilege, in part because I am a white man. As such, I cannot speak for the countless Black people who are angry, scared, and in pain. But what I can do, and I believe we all must do, is stand together for what's right, and amplify the many voices of those doing the difficult work of tackling this system of oppression head-on. In the words of MLK Jr.: "Riots are the language of the unheard", and it's time that we all listened, educated ourselves and took action in support of anti-racist movements everywhere.
It is not enough to not be racist. To affect the change we want to see in the world, we must take action against racism and police brutality. We must stand in solidarity with #BlackLivesMatter. We can and must do more.
To that end, we have gathered together a small selection of resources, including further ways to take action, on our platform and beyond. We encourage all members to use Care2 Petitions to advocate for anti-racist causes in your own community. This list is not comprehensive, and we urge you to continue your learning, engagement and action during this heightened moment and for weeks, months and years to come.

-Randy Paynter, CEO Care2
If you're attending protests and demonstrations, here is a guide from Amnesty International on staying safe while doing so.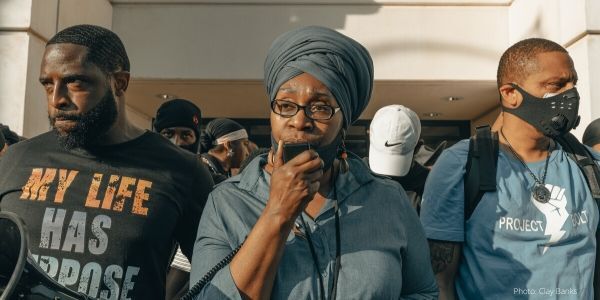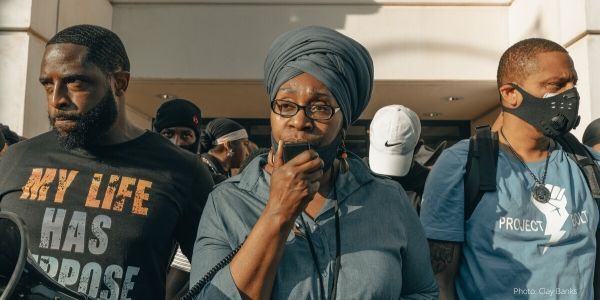 Not able to show up? No problem, there are many many things you can do from home. Here are just a few to get you started:
Educate yourself and listen to those who know more.
Follow black creators, activists, writers and more on social media who are speaking about ending racism.

Buy some books on

this list

to encourage conversations about race with children.

Buy

some books

on this list for adults. 

For non-black allies:

sign up

for Rachel Cargle's free 30 day #DoTheWork program to begin unlearning your own bias and racism.
Sign, share and create petitions. Here are a few from our team and partners:
Donate: 
Mutual aid funds: many corporate properties that have been harmed are well insured and will easily be able to rebuild. But you can donate to smaller businesses to help them rebuild, focus especially on those owned and operated by minorities. Try searching for mutual aid in your city on popular fundraising sites.

Bail Funds

by ActBlue. This money will go to getting activists out of jail.

Your local

Black Lives Matter

chapter

Black Voters Matter Fund

, working to empower Black communities through protecting and supporting the right to vote

Color of Change

, an online racial justice organization. They are actively working to hold George Floyd's murderers accountable.

Black Futures Lab

works to transform Black communities, building Black political power at local, state, and national levels.

Local organizations supporting protesters and police reform. Verify the organization by checking if a more established organization is also posting about them. 
Act
Head over to

Campaign Zero

to find out if your local police force has these eight critical measures in place to stop police brutality and if not, take action to call for them. 

Research who your local district and state's attorney is and whether they have a history of prosecuting police brutality or not. If they don't, find out how to get them replaced. 

For white people: tackle some items on

this list

. 

We know it can feel overwhelming to take action when there is so much to do.

This resource

breaks down action items based on how much time you have each day. 

This link

is an aggregation of Ways to Help the Black Lives Matter movement.

Research whether police or Student Resource Officers (RSO) are in your local school system and advocate for those funds to go to social workers, psychologists, nurses and teachers instead. Research the school-to-prison pipeline if you want to understand why.